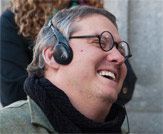 I've had a love affair with the humor and writings of Adam Mckay since his days on Saturday Night Live. Then Anchorman came out and the love was fortified ! This guy might be one of the funniest men I have ever seen.
He just wrote a
marvelous article on Huffinton Post
that is definitely worth a read.
Also, if you have the Anchorman DVD, check out the commentary feature where you get a good dose of McKay and Ferrell just shooting the shit and being funny as can be.
McKay Interview.